I participated in Craftaholics Anonymous' Handmade Gift Exchange, it was SO fun! I decided to make something new, I've never made place mats before, I've never really "quilted" anything before. So this was TOTALLY new for me! I love it though, I think it turned out pretty cute, I would love these...which, I still want to make me some for next year!

Here's a pic of the two I sent my Exchange buddy! I sure hope she likes them!
My Exchange buddy sent me the cutest little "USA" blocks, and two super cute hand towels with an "F" hand stitched on! I loved it!!! I'll have to take a picture this week so I can show you!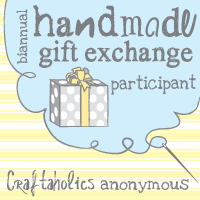 I was able to sew a table runner for me last weekend, basically two days before 4th of July, but hey, I used it for the weekend!
Here's a close up of the back, which is my favorite fabric, luckily I had just enough for the back!